1846 Blodgett House
Plans set for
Interior Renovation


Plans have now been set for interior renovation of the 1846 Blodgett House. An exciting new approach to interior has been developed, presented and enthusiastically accepted by the Park Board. DGHPC and the Park District Staff are excited about moving forward.
We believe that it is important to focus now on providing public access to the inside of the Blodgett House so as to enhance its contribution in telling the story of Downers Grove's heritage, the Underground Railroad and the Blodgett family.

We have an engineering report analyzing those reinforcements needed for the floor supports to ensure the safety of members of the public who visit the House. The Park District plans to complete this structural work in 2014.


Check out the Photo gallery
for Renovation Progress
Blodgett House
In the News
Take a look at some of what has been written

Downers Grove Reporter
February 1, 2012
Downers Grove Patch
April 25, 2011
Trib Local
May 27, 2010
Downers Grove Reporter
June 23, 2009
Downers Grove Reporter
March 17, 2009
Trib Local
January 15, 2009
Downers Grove Reporter
September 3, 2008
Downers Grove Reporter
May 13, 2008
Downers Grove Reporter
May 6, 2008
Jenner & Block
May 1, 2008
Chicago Tribune
May 6, 2008
Downers Grove Reporter
April 23, 2008
Downers Grove Reporter
February 11, 2008
Downers Grove Reporter
November 9, 2007
The 1846 Blodgett House was built by Israel and Avis Blodgett. Not only does the house have architectural historical significance as the second or third oldest house in the Village, but it also has great cultural significance as an active stopover point on the Underground Railroad. The Downers Grove Heritage Preservation Corporation has been founded with a mission to save and restore this historic house and create a museum focusing on the underground railroad.
click here to learn more
1846 Blodgett House Overview
Now that the 1846 Blodgett House has now been restored to its mid-19th Century appearance,
Commissioners of
the Downers Grove Park District have accepted ownership of the House and terminated the District's lease agreement with the Heritage Preservation Corporation.
At the Park Board meeting on January 19, 2012, President Charley Smart expressed gratitude to the Park District and the whole community for their great support. He also presented our group's donation to the Park District of $5,000 to help with interior renovation efforts and spoke about our continuing volunteer involvement in this project.

The Park District was advised in August 2012 that it has been awarded a new project grant of $15,000 for all costs associated with Phase 1 of the Blodgett House Renovation and other capital improvements. This grant from the Build Illinois Bond Fund is authorized by legislation first approved in 2009. Park District staff members are currently completing the paperwork associated with this very useful and timely grant.

A generous donation by the Illinois State Questers has been matched with $2,000 in Park District funds thereby making possible the recent installation of three exterior signs for the 1846 Blodgett House. Two of these new displays are pictured below. Next time you come to Wandschneider Park be sure to look for this intformative signage.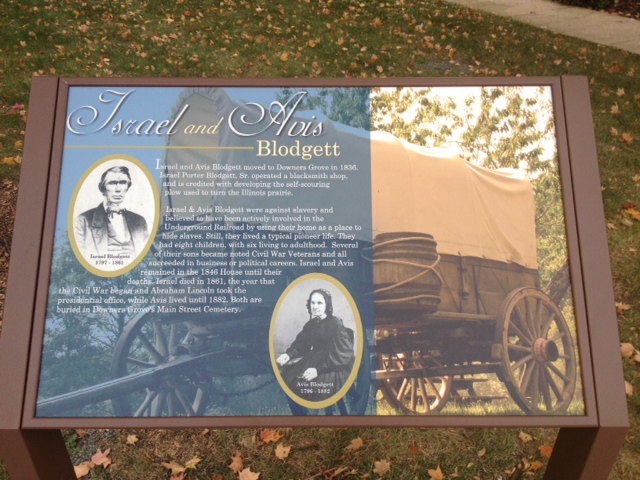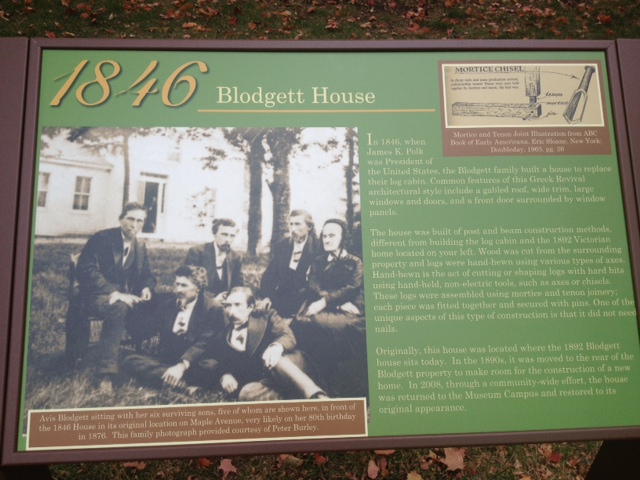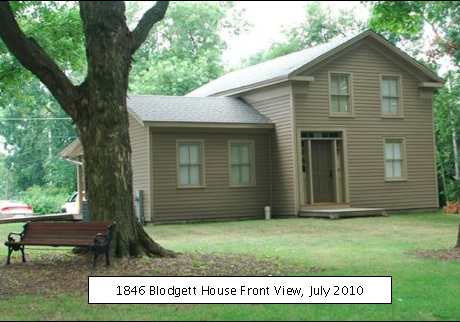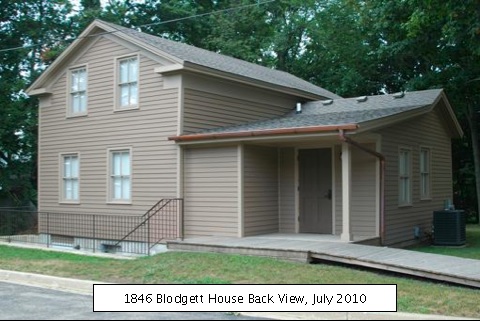 Updated October 7, 2013

Site created, designed, and managed courtesy of Corridor Communications